Description
UBot Studio Boot Camp
Basic Training – Form Post Source Code
UBot's Native  Browser Edition
Hello Newbie!

In this "Source Code" aka .ubot file I will attempt to show you how to use the most common nodes used in any software you build. This is not a full production bot yet but this one in particular shows how to make a posting bot. Most of the same code can be used for a scraper too. You will learn how to learn the following commands and functions(nodes).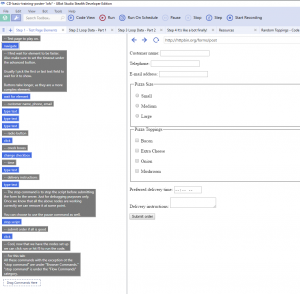 Commands:
set header – change user agent and referrer
navigate
wait for element
type text
click
change checkbox
stop script
clear list
add list to list
loop
alert
set
loop while
if
wait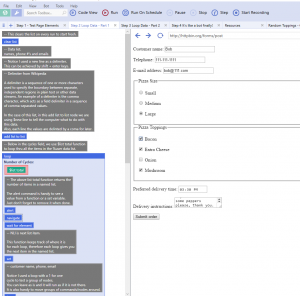 Functions:
list total
list fr4om text
text from list
new line
next list item
spin
rand
random list item
comparison
list item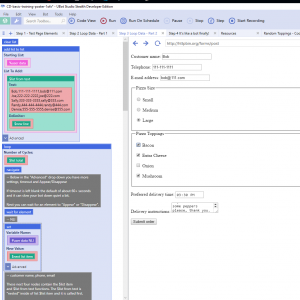 Concepts:
nesting functions
looping
list management
logic
page elements
radio buttons
text fields
submit button
delimiters
parameters
multiple functions and variable in a field
using multiple commands and functions together
what is a function
using alert for debugging
what zero based system is
using commands and function in multiple ways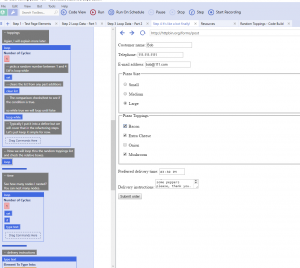 Each of these are explained by a comment next to it.
This source code intends to show a natural progression of a bot build over 4 tabs. Over these four tabs I will introduce new nodes step by step then refactoring as I go. I also show how one might build a bot around a form and loop through data in a list then submit it.
This is really basic stuff that you will use over and over but in this source you will understand how to use these nodes in more than just one scenario. Instead of just knowing what the node does you will know how it works in conjunction with others in a few different ways.
This source is missing some steps however I did note where you will need to insert the nodes to login to a service like Word Press. After going through this source I hope you will be able to get started making your bots faster and understand the some of the fundamentals in UBot Studio.
I also started a Skype group and the link is inside the source in the "Resources" tab along with other need to know information. I know when I started I struggled with how to put things together and in what order. I hope this source provides you with some insight to speed up your for steps into bot building.
In the near future I will release some supplemental information to this source and I have several more in line near ready to release as well. These are intermediate to advanced and they cover many more nodes and UBot tips as well.
I look forward to helping you getting started in the UBot Studio Boot Camp Skype group. Hope to see you soon so enlist today!!
This group is just for Newbies and anyone that likes to help Newbies.